German model Kylie Marilyn has been on the move and has been making an international impact. Marilyn has made an impression at events across the globe, modeled for Dawnamatrix, Brigitte More, Rubber 55. Recently she posed for Stefan Weeber, and Marquis of course. This March, she'll be competing for the Miss Rubber World 2012 title. The event is presented by FetishMovies.com. Our friend, Arch Stanton had a chance to interview her before the event.
Arch Stanton: Congrats on your entry in the Miss Rubber World Contest. For those not familiar with the event, what is it about? Once crowned, what are your obligations?
Kylie Marilyn: Thank you. Miss Rubber World is a yearly event in NY where 10 true rubberdolls from all over the world and of both genders are competing. The winner will be Miss Rubber World for one year and have several duties. These include promoting the event, encourage new contestants, and spread the word about latex and rubber in the world not just among fetishists.
Stanton: Obviously, you don't want to give away any secrets before the event, but do you think there's anything that gives you an advantage in the competition?
Marilyn: I want to show the diversity of latex and rubber as a material. So my outfits will reflect that, at least I hope so. I don't think that I have any advantage because all contestants will wear latex and we will not be judged by our bodies and faces, but the creativity and outfits. So everybody, female and male contestants will have a fair chance. Maybe there is one little advantage for me. I really love latex and am proud to be a rubber fetishist.
Stanton: Is there a rubber designer you're working closely with for the event?
Marilyn: For the event I was working with a couple of labels and designers. If it's okay to name them then I would like to name, in alphabetical order, Fantastic Rubber, La Cucaracha, Marquis, Simon O and Rubber 55. I know them for a long time and it's always a pleasure to work with them. Their outfits are amazing and I love the quality and service.
Stanton: How did the rubber obsession start for you? Was there someone that introduced this to you? Was there an influence by movies or other rubberists?
Marilyn: Well rubber was not my first fetish. The fascination started in the mid nineties when I saw Peter Czernich of Marquis and two girls in latex in a late night show in German television. After that I searched the Internet for him and found the first latex images and later movies. So I would say, Peter Czernich, Andrew Blake, Suze Randall and the Ivy Manor movies were the kick start into my obsession for latex and rubber. From there on my hunger for the material and information grew with each year, but it took me almost five years until I bought my first latex, which were stockings and gloves.
Stanton: Can you tell us, what is the wildest fantasy you haven't been able to try yet?
Marilyn: Without going into to much detail, I would like to have the chance to have all the latex outfits and accessories I want to have at my disposal an play with a bunch of my friends in a nice location. I love the process of dressing up, going through all the available outfits and try to combine, create something new, add new materials and accessories. I leave the rest of the fantasy to the reader, but hey latex is not just for modeling if you know what I mean.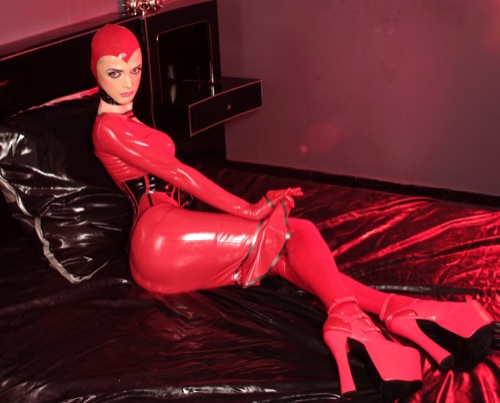 Stanton: Is there a particular piece of rubber clothing or device that really turns you on more than anything?
Marilyn: For me the biggest turn on is total enclosure in ultra thin latex. So the catsuit with a nice hood is essential. So that's one reason why you see me in catsuits so often.
Stanton: Peter Czernich seems to have a lot of influence, but we've noticed you have a lot of admiration for Rubberdoll and some others. Who inspires you most and why?
Marilyn: Right now I'm inspired by all the great new designers who are out there and push the limits of what you can do with latex and rubber as a material. This is just unbelievable. This gives me new ideas for my outfits as well.
When it comes to models, then yes Rubberdoll or Emily Marilyn are in my top 10, because of their look and what they have achieved. I also really like Jade Vixen and Kato. They all help me to push my limit and that's great because I want to be better and please me and my friends with great images, good modeling and a good time at events.
Stanton: Obviously, you've appeared in Marquis. Do you have any new appearances in the media or events before Miss Rubber World we should be on the lookout for?
Marilyn: I will do a couple of shootings over the next couple of months, so there will be all kinds of images and clips spanning the complete range from fashion beauty to kinky heavy rubber images and clips. I will also do another shooting with Peter Czernich later this year. So have a look at my facebook profile and website for announcements and new images. And for the second half of the year I plan to finally open up my own website and work with some well known US models. So stay tuned.
Stanton: Thank you very much for your time and help today, and we wish you great success at Miss Rubber World 2012.
Marilyn: Thank you, and yeah let's rock tonight and have lots of fun! May the rubber be with you!
Kylie Marilyn will be competing at the Miss Rubber World 2012 competition, a part of the New York Rubber Ball. Miss Rubber World 2012 is presented by FetishMovies.com and will be held March 24th at the Grand Ballroom of the Affina Manhattan Hotel, located at 371 7th Ave in New York City. For More Details on the event, check out www.nyrubberball.com. Marilyn's web site is www.domrubbervamp.com. She can be found on Twitter @domrubbervamp, where her adventures are updated constantly.